Did order carry the days, or will chaos reign in Splatoon 3?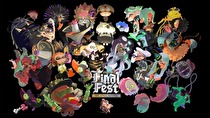 The final Splatoon 2 Splatfest is in the books, and nobody knows what will happen next.
Chaos scored a clean sweep, winning the final fest 3-0 over Team Order. The final percentages were:
58.05% Chaos popularity
51.39% Chaos clout (Regular matches)
50.34% Chaos clout (Pro matches)
As of yet, the way this will affect the storyline of future Splatoon games has yet to be determined: the final Splatfest for Splatoon 1 was worked into the single player mode of 2.