A cute looking survival crafting game inspired by Zelda and Stardew Valley.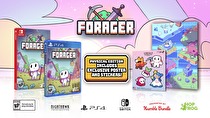 Nighthawk Interactive will soon be publishing a physical version of 2D openworld adventure game "Forager" for the Nintendo Switch. This release will have a few extra goodies, touting some stickers and an exclusive poster.
You will be able to pickup this release in North America on September 10th for $29.99, and will also be available in Europe a few days later on September 13th (with equivalent pricing).
Check out some of the gameplay below, we here at Nintendo World Report are definitely very excited for this release!
Pre-orders are available right now at GameStop, and will also be available soon at Best Buy, Amazon and Target.