Someone set up us the bomb.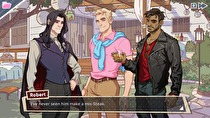 So how do we celebrate this week of national birthdays?
With not a lot, as it turns out. The biggest ones are the much-hyped Stranger Things season 3 isometric action game, with maybe, hopefully, the app from the publisher of Stranger Things along for the ride. There's also a few takes on personal relationships between Clannad, Dream Daddy, and the now-confirmed What Remains of Edith Finch.
Aren't you forgetting something? With maybe a space a-hole, perhaps?
Ignored for two reasons: THQ Nordic, and the subtitle is prima face stupid. Speaking of publishers we probably want to be blackballed from, watch out for the bi-monthly Kemco Alert. Maybe go for the intriguing looking Lucah: Born of a Dream instead.
And what the hell is Axes-Jong?
Something you don't want to mess with. But pity Japan, for they also get Worst Game of the Year candidate PixArk this week.
North America
Switch Retail
Red Faction: Guerilla (US/C$29.99: Tuesday, THQ Nordic)
Switch eShop
Clannad ($44.99/$56.69)
Stranger Things 3: The Game ($19.99/$25.99)
What Remains of Edith Finch ($19.99/$24.99)
Dream Daddy ($14.99/$19.99: Tuesday)
Lucah: Born of a Dream ($14.99/$18.99: Wednesday)
Siralim 3 ($14.99/$18.89: Friday)
Ziggurat ($14.99/$18.89: Friday)
Asdivine Dios ($12.99/$17.99)
Pure Mahjong ($9.99/$12.59)
World of Riders ($8.99/$11.33: Tuesday)
Ankh Guardian: Treasure of the Demon's Temple ($7.99/$10.07)
Ovivo ($6.99/$8.81: Wednesday)
Bus Fix 2019 ($5.99/$7.55: Wednesday)
Redneck Skeet Shooting ($4.99/$6.29: Monday)
Hero Express ($4.99/$6.29: Friday)
Paradox Soul ($4.99/$5.99: Friday)
Bubble Cats Rescue ($3.99/$4.99: Friday)
Laser Kitty Pow Pow ($2.99/$3.90: Friday)
Wii U eShop
Horror Stories ($3.99/$5.03)
Switch Archives
Ninja Spirit ($7.99/$9.87)
Sales and Price Drops
Highlights: Dragon Ball Xenoverse is US$14.99/C$19.49 until Tuesday, Degrees of Separation is on sale until the 11th. Spreadsheet
Europe
Switch Retail
Red Faction: Guerilla (€29.99/£26.99: Tuesday, THQ Nordic)
Switch eShop
Clannad (€44.99/£40.49)
What Remains of Edith Finch (€19.99/£17.99)
Dream Daddy (€14.99/£13.49: Tuesday)
Ziggurat (€14.99/£13.49: Friday)
Siralim 3 (€14.99/£13.49: Friday)
Asdivine Dios (€12.99/£11.69)
Pure Mahjong (€9.99/£8.99)
World of Riders (€7.99/£7.19: Tuesday)
Ovivo (€6.99/£6.29: Wednesday)
Ankh Guardian: Treasure of the Demon's Temple (€6.59/£5.89)
Bus Fix 2019 (€5.99/£5.39: Wednesday)
Paradox Soul (€4.99/£4.99: Friday)
Hero Express (€4.99/£4.49: Friday)
Redneck Skeet Shooting (€4.99/£4.49: Monday)
Bubble Cats Rescue (€3.99/£3.59: Friday)
Laser Kitty Pow Pow (€2.99/£2.69: Friday)
Switch Archives
Ninja Spirit (€6.99/£6.29)
Japan
Attack on Titan 2: Final Battle (¥8424)
PixArk (¥5940)
Clannad (¥4600)
3-Biki no Kobuta to Ookami (¥3300)
Taisen Hot Gimmick: Axes-Jong (¥2700)
What Remains of Edith Finch (¥2200)
Asdivine Dios (¥1296)
Path to Mnemosyne (¥1000)
Devious Dungeon 2 (¥880)
Ninja Spirit (¥823)
Instant Tennis (¥800)
Ankh Guardian: Treasure of the Demon's Temple (¥800)
Qbik (¥499)