From Dreams Uncorporated and SYCK, this beautifully animated turn-based RPG popped up at E3.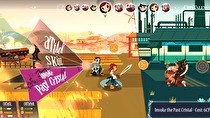 Cris Tales is coming to Switch in 2020 after being shown at the E3 2019 PC Gaming Show.
A self-professed love letter to classic JRPGs, the Modus Games-published project follows the heroic Crisbell who travels between the past, present, and future to save her world. The turn-based battle system is focused around a time magic mechanic that can change the enemy turn order.
Exploration occurs through a picturesque animated art style across multiple regions. In line with the time travelling conceit, there are branching paths and choices leading to different endings.
A playable demo is available on Steam until June 24 if you want to check it out.