Why would you want to be a demon?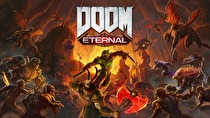 Doom Eternal is blasting home in November.
The followup to the 2016/17 Doom reboot will be available on November 22. A limited edition will be available with a working Doom helmet, though it will not be offered with the Switch version.
During a look at the game at Bethesda's pre E3 stream, a new 2v1 multiplayer mode called "Battlemode". Two demons will face a third player controlling the Doomslayer and have to attempt to survive.