A split screen twin stick shooter where you have to survive to score.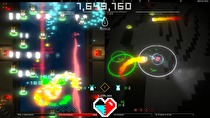 The Kinda Funny Showcase had a shadowdrop for the Switch.
A Duel Hand Disaster: Trackher is now available on the eShop for US $9.99. Originally beginning development in 2015, Trackher is a twin stick shooter where the screen is split between destroying enemies on the left, and extracting resources on the right. Players will have to control both ships, only one of which takes damage.
Adding to the difficulty of the game is the need to manually eject when low on health, as playing to death will not only stop the score, but could wipe an existing leaderboard slot.