Still no word on if the Honedge family will be in the game. Come on, y'all.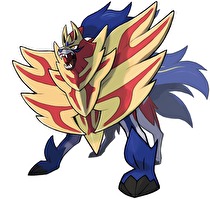 We have new details - including a release date - for Pokémon Sword and Shield.
The first Switch-exclusive Pokémon generation will kick off worldwide on November 15, and a dual pack of the games will be available for preorder. Among the new features for the game:
Dynamax
Pokémon in Sword and Shield can become giant through a process known as Dynamax. In Dynamax, moves become powerful Max Moves, and the Pokémon also gain stat boosts. The Dynamax last for three turns in battle, and Gym battles will make use of the function.
Wild Areas and Raid Battles
Routes in the Galar region are open world locations called "Wild Areas". Pokémon will roam in the wild areas, and full camera control will be available. Weather will vary in the areas.
Players will be able to engage in Raid Battles against Dynamax Pokémon in the wild areas. Up to four players can participate locally and online, but only one Pokémon can go Dynamax in these battles. After defeating the giant, they will have the option to catch the Pokémon.
New Pokémon
The box mascots for the game are a pair of wolves named Zacian (Sword) and Zamazenta (Shield), while other new Pokémon include the sheep Wooloo, the flower family Gossifleur and Eldegoss, snapping turtle Drednaw, and the Steel/Flying taxi Corviknight.