Cadence of Hyrule has hope for a spring launch yet.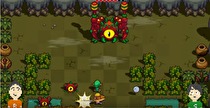 Cadence of Hyrule, the rhythm game made jointly between Nintendo, Spike Chunsoft, and Crypt of the Necrodancer developer Brace Yourself Games, is changing its previous spring release window to the specifically the month of June, as per a recent Japanese Nintendo indie video.
First announced in March, Cadence of Hyrule takes the basic rhythm roguelike stylings of Crypt of the Necrodancer and puts a Zelda spin on it, taking place in Hyrule with familiar enemies, items, and characters.
The footage shown in the video highlights multiple enemies, ranging from Bokoblins and Chuchus to Beamos and Wolfos. Queen Gohma is also shown as a boss that wields maracas, complimenting the earlier reveal that Wizzrobes are called Wizzroboes in this land.
Additionally, multiple locales were showcased, including fields, beaches, castles, deserts, and dungeons. The video ends with Link triumphantly picking up an oboe.
We'll have more details on Zelda's indie debut as we await its release any day now.