Save us, Virtua Racing... I can't believe I'm saying this.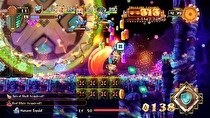 This is getting off to a busy start this week.
There's already more stuff confirmed for this week than came out last week, even before we consider there's an archives title still to be announced. As far as what to watch for, Devolver's innovating in Catroidvania with Gato Roboto, the black and white cat adventure game, while NISA is bringing out Lapis x Labyrinth this week as well. And as we learned last week, there's also Brothers: A Tale of Two Sons, so prepare the Swedish saw.
...wait, that's it?
This appears to be a week of quantity. I've heard good things about Anarcute, but I'm probably going to wait for reviews on that one.
And wait, is Dead or Alive Xtreme 3 free in Japan?
Free to play, which based on this series's history means about nine THOUSAND dollars worth of DLC. Also, a "macho" training simulator which is no relation to Muscle March.
North America
Switch Retail
Little Friends: Dogs and Cats (US$49.99/C$64.99: Tuesday)
PixArk ($39.99/$49.99: Friday)
Crystal Crisis ($29.99/$39.99: Tuesday)
Lapis x Labyrinth ($29.99/$37.79: Tuesday)
Among The Sleep - Enhanced Edition ($24.99/$31.49: Wednesday)
Switch eShop
Super Cane Magic Zero ($24.99/$32.49)
Golem Gates ($24.99/$31.49: Friday)
TerraTech ($24.99/$29.99: Wednesday)
Anarcute ($14.99/$18.99)
Brothers: A Tale of Two Sons ($14.99/$18.89: Tuesday)
GoFishing 3D ($14.99/$18.89: Tuesday)
30-in-1 Game Collection ($14.99/$18.89)
Robot Squad Simulator ($14.99/$18.89: Friday)
Mowin' and Throwin' ($14.99/$not releasing: Friday)
Ages of Mages: The Last Keeper ($11.99/$14.99)
Vectronom ($9.99/$12.99: Wednesday)
Monkey Business ($9.99/$12.59: Monday)
Ragtag Adventurers ($9.99/$12.59)
Selma and the Wisp ($9.99/$12.59: Friday)
Chime Sharp ($9.99/$11.99: Tuesday)
Happy Words ($9.99/$11.99: Tuesday)
Season Match 2 ($9.99/$11.99)
Gato Roboto ($7.99/$10.07)
Desktop Baseball ($7.29/$9.82: Friday)
Super Arcade Soccer ($6.99/$8.81: Friday)
DynaBomb ($5.99/$7.99)
Toon War ($4.99/$6.29)
Warlock's Tower ($4.99/$5.99: Friday)
Watermelon Party ($4.99/$5.99: Friday)
Geki Yabi Runner Anniversary Edition ($2.99/$3.99: Friday)
Crypt of the Serpent King ($2.99/$3.77: Friday)
Switch Archives
Alpine Ski ($7.99/$9.87)
Sales and Price Drops
Highlights: Rising Star Games titles including Giga Wrecker Alt are on sale until June 6. Spreadsheet
Europe
Switch Retail
Cricket 19 (€49.99/£49.99: Tuesday)
PixArk (€49.99/£44.99: Friday)
Little Friends: Dogs and Cats (€49.99/£39.99: Tuesday)
Crystal Crisis (€29.99/£26.99: Tuesday)
Lapis x Labyrinth (€29.99/£26.99: Friday)
Jotodama: The 7 Mysteries of Fujisawa (€29.99/£19.99: Friday)
Among The Sleep - Enhanced Edition (€24.99/£24.99: Wednesday)
Switch eShop
Fun! Fun! Animal Park (€29.99/£29.99)
Golem Gates (€24.99/£22.49: Friday)
TerraTech (€24.99/£19.99: Wednesday)
Robot Squad Simulator (€14.99/£13.49: Friday)
Anarcute (€14.99/£13.49)
30-in-1 Game Collection (€14.99/£13.49)
GoFishing 3D (€14.99/£13.49: Tuesday)
Brothers: A Tale of Two Sons (€14.99/£9.99: Tuesday)
Ages of Mages: The Last Keeper (€11.99/£9.89)
Chime Sharp (€9.99/£9.99: Tuesday)
Vectronom (€9.99/£8.99: Wednesday)
Season Match 2 (€9.99/£8.99)
Ragtag Adventurers (€9.99/£8.99)
Selma and the Wisp (€9.99/£8.99: Friday)
Happy Words (€9.99/£8.99: Tuesday)
Monkey Business (€7.99/£7.19: Monday)
Gato Roboto (€7.99/£7.19)
Super Arcade Soccer (€6.99/£6.29: Friday)
Desktop Table Tennis (€6.49/£5.60)
Warlock's Tower (€4.99/£4.99: Friday)
Watermelon Party (€4.99/£3.99: Friday)
Crypt of the Serpent King (€2.99/£2.69: Friday)
Geki Yabi Runner Anniversary Edition (€2.99/£2.69: Friday)
Switch Archives
Alpine Ski (€6.99/£6.29)
Japan
Moujuutsukai to Ouji-sama (¥7344)
The Warlock of Firetop Mountain (¥2980)
VA-11 Hall-A (¥2160)
Smoke and Sacrifice (¥2000)
Bullet Battle Evolution (¥1800)
Hopping Girl Kohane Jumping Kingdom -Kuro Usagi no Hime- (¥1296)
Typoman (¥1200)
Pocket Rumble (¥1080)
Wonder Boy in Monster Land (¥999)
Macho de Pon! ZZ (¥888)
Alpine Ski (¥823)
Gato Roboto (¥820)