The savings from one can pay for the other... in a fashion.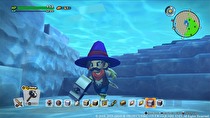 Dragon Quest Builders 2 had DLC in Japan, and it will be coming to the West quickly.
In addition to confirming July 12 for the sequel to last February's building game, Nintendo has announced the release plan for add-on content. A free Knickknack Pack will release on July 26 with three recipes, and a Hotto Stuff Pack with a desert theme will be available for US$5.99 the same day. August 2 will have the launch of an Aquarium Pack for $9.99, and a Modernist Pack will follow on August 9 for $9.99. A season pass will be available for $20.99, giving $5 off buying all of the DLC.
The season pass will include bonus items that will also be included with digital preorders from the game. Builders 2 was also added to the list of the games available for the recently announced Switch Online Vouchers, allowing for the game to be bought with an effective discount.