The rights for this one ought to be a blast.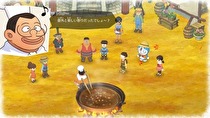 The crossover of farming and anime cats was stunning enough when it was announced in February, but now it's being localized.
Bandai Namco will be publishing Doraemon Story of Seasons on Switch this fall. The Marvelous/Bandai Namco collaboration was originally announced in the Japanese version of February's Nintendo Direct for a June release there.
Originally published in manga form in 1969, Doraemon is a blue robotic cat capable of traveling through time and dimensions. With more than 100 million copies of manga collections sold, the cat is a mainstay of Japanese entertainment.