Some fighting games have trouble counting to 3, SamSho's difficulty is with 6.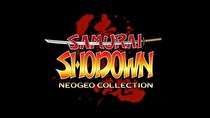 There will now be seven Samurai Shodowns in 2019, thanks to a newly-announced compilation.
SNK has announced a "Samurai Shodown NeoGeo Collection" at PAX East, which will contain the original six games (1-5 and 5 Special) in one package. The package will be out in the fall.
The first five games in the series are currently available individually in the Hamster Arcade Archives, but this is the first Switch appearance so far for the final NeoGeo game Samurai Shodown 5 Special.