The good news: All of the DLC is included. The bad news: ALL of the DLC is included.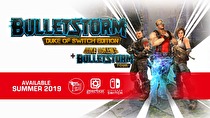 Gearbox held a panel at PAX East today and took the opportunity to announce a Switch project that was teased previously.
The 2011 ultra violent shooter Bulletstorm was announced for Switch with a "summer" release. Originally developed by Polish developer People Can Fly along with Epic, the game was originally published on Xbox 360 and PlayStation 3 in 2011 by Electronic Arts before Gearbox published the remastered versions in 2017.
The Switch release will include all of the DLC released for the game, which includes a pack which features Nintendo 64 shooter star Duke Nukem as a playable character. As a result, Bulletstorm's subtitle for this version is "Duke of Switch".