A high speed ninja based side scroller. That sounds like a Yacht Club joint.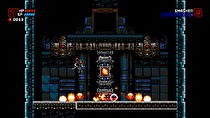 Yacht Club Games have announced their newest publishing project, and it's right in their wheelhouse.
Cyber Shadow was revealed for the Switch today, with a release date TBA but with a MSRP of US$14.99. The game will be playable at PAX East this weekend.
The sole developer of Cyber Shadow is Arne "MekaSkull" Hunkizer, who has been working on the game for almost a decade. Similar to Shovel Knight, it sports an 8-bit art style but with modern technologies such as multi layered parallax backgrounds.