Procedural generation goes "bonk".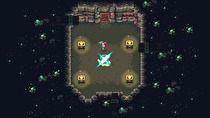 Switch players will attempt to stop an evil miner this fall.
Merge Games have announced the release of overhead action roguelike Sparklite for this fall as part of their Game Developer's Conference slate. The game cites inspiration from The Legend of Zelda: Link to the Past and Rogue Legacy.
Players will attempt to stop an evil baron from mining the world's prime resource - Sparklite - and prevent him from obtaining the power to morph the world in his own image.