Looks like the CRT TVs will be confined to the side tourneys this year.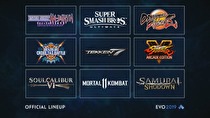 The world's largest fighting game tournament has revealed its 2019 game lineup, including a new game reveal
The new game is Samurai Shodown, an Unreal Engine 4-based reboot of SNK's 1993 fighting game. The reboot will be a part of the EVO lineup, as the game is slated to release in early summer. Previously revealed as Samurai Spirits, it was announced for Switch as part of a SNK earnings call last year.
Five games playable on Switch will be part of the tournament, with Super Smash Bros Ultimate as the only Smash representation in this year's tournament. Dragon Ball FighterZ, Mortal Kombat 11, and BlazBlue Cross Tag Battle are also parts of the main field. The rest of the tournament games are Soul Calibur VI, Street Fighter V (Arcade Edition), Under Night In:Birth, and Tekken 7. EVO 2019 will take place in Las Vegas from August 2-4.