It has been a while.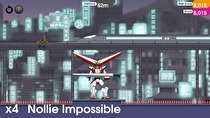 OlliOlli is about to get a double release on Switch.
The 2D skateboarding adventure will release a "Switch Stance" edition on the eShop February 14, according to a new listing on Nintendo's game page. The two games will release for $14.99 US or $18.89 Canadian.
The Switch edition will contain the original OlliOlli, a 2015 crossbuy release on Wii U and 3DS, as well as the sequel OlliOlli 2: Welcome to Olliwood which was previously only on PlayStation consoles and PC. The eShop listing also mentions 5 new worlds to play in.