Courtesy of Super Rare Games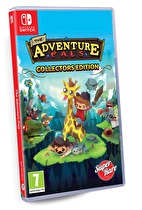 Short-run publisher Super Rare Games has announced their tenth release, and it is none other than "The Adventure Pals", from Massive Monster.
This release will include "a 20 page full colour manual, interior artwork, exclusive sticker, as well as three trading cards randomly selected from the five-card set."
The Adventure Pals will be available to pre-order on the 10th of January at superraregames.com for $34.99 / £29.99 / €33.99.