An absolutely Direct-esque pace.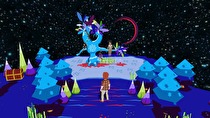 Following the spate of announcements Thursday night, Kinda Funny Games held a game showcase today that averaged more than an announcement a minute for more than an hour of video, with 27 Switch announcements.
The most immediate announcement is Mike Bithell's follow-up to February's Subsurface Circular, with adventure title Quarantine Circular which will be available later today. The Walking Dead: The Final Season, which was in jeopardy following the bankruptcy of Telltale Games, will be completed by members of the remaining team with the third episode "Broken Toys" coming out on January 15.
Other announcements:
Super Meat Boy Forever will launch in April 2019
The oft-delayed modern RPG YIIK finally has a launch date of January 17
A new announcement; 4 player shooter At Sundown will release on January 22
Toe Jam and Earl: Back in the Groove reconfirmed a March 1 release date
NIS America showed recent Japanese action RPG LapisxLabyrinth for 2019
New DLC for The Messenger: The Picnic Panic, which includes three new levels with bosses, will be a free download next year
Human Fall Flat showed new content due for 2019
Death Squared publisher SMG Studio revealed Moving Out, coming to PC and consoles next year
Guacamelee 2 showed new costumes unlockable with a code; the status of the content for the game releasing Monday on Switch is unknown
Construction sim When Ski Lifts Go Wrong will release in 2019, and will feature animated gif sharing for the wackier moments
Windjammers and Celeste were confirmed for Limited Run Games releases: Windjammers on December 21, while Celeste will be available on New Year's Day
Away: Journey to the Unexpected finally has a launch date of February 7, 2019
Set in the conflict in Syria, Bury Me, My Love is slated for a January 10 release
Rotating puzzle game Collapsus was announced for a 2019 release
13AM Games's Double Cross will launch in January
Combat racer Devil Engine will be out in Q1
Recent release Reverie will see its "Sweet As" edition on Switch in early 2019
Knifeboy, Turbolance, and Wreckout were all confirmed for 2019
Devolver Digital's second 2019 Switch project is February 7's Ape Out, an overhead destruction game starring an out of control simian, following January's Downwell
Medieval action RPG Fight Knight was given a spring 2019 release, though the Switch version was noted with "we hope"
A Fold Apart, a 2019 release, sees two lovers try to reunite in a world controlled by folding paper backgrounds
Jenny LeClue; Detectivu was shown for the first time for Switch, with no release date given.