Sorry, can't hear you over Magical Sound Shower.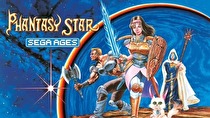 A couple of Sega Ages games received release updates today.
The enhanced version of Phantasy Star, which released in Japan at the end of October, will finally come to the West on December 13. It is not known what caused the delay, as the Japanese version did contain English text.
Possibly joining it that day is the Sega Ages version of OutRun. Sega have confirmed that the classic racing title will come to Switch by the end of the year; it is not known if this only refers to a Japanese release, or if this would be worldwide.