Two games for the price of... well, 0.8 if you grab the launch discount.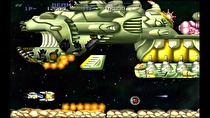 R-Type Dimensions's Switch release has a date and a discount.
The pack of shooters, announced a few months ago, will release on November 28 and normally cost US$14.99/C$18.89. Buying the game before December 4 will give 20% off these prices, and the game can be preloaded now.
Dimensions has enhanced versions of the first two R-Type shooters from Irem, with the ability to speed up or slow down the games as necessary.