And onto the Wii U next year.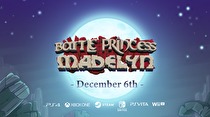 One of the bigger indie titles of Smash week has just announced its launch date.
Battle Princess Madelyn, a tribute to 16-bit action platformers developed by a three-person team, will be releasing on Switch December 6. The former Kickstarter project raised more than four times its initial funding goal. A Wii U version was also promised in the original funding, and will release in early 2019.