And there's also a free fighter for launch buyers.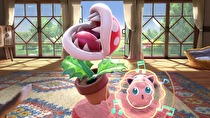 Although Smash Ultimate already has a 74-character roster, there will be at least six more characters.
A Smash Pass has been announced that will provide five unannounced characters, along with a stage and music. Each character will be $5.99 US, or a pass for all 5 will be $24.99. The characters in the pass will be available by February 2020, will not be Echo Fighters, and have been developed from scratch after the game went gold.
A sixth character will be available for early adopters: Players who register the physical copy on My Nintendo or buy the game digitally before January 31, 2019 will receive the Piranha Plant as a playable character.