"...but the cat came back, he just wouldn't stay away..."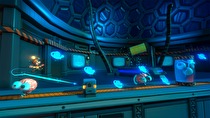 It is with a heavy heart that we must report that Bubsy the Bobcat is returning to Nintendo platforms.
Bubsy: Paws on Fire has been announced by the revived Accolade for release on Switch in Q1 2019. Developed by Choice Provisions, the game is an automatic runner similar to their Runner series. Four characters will be playable, including a character not seen since the failed pilot of a Bubsy animated series in the mid 1990s.
The four characters will explore different environments as they traverse the world and attempt to not shred an alliance between Bubsy and his usual foes, the Woolies.