It's old, isn't it.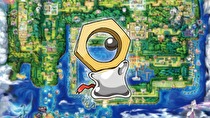 A recent addition to Pokémon Go appears to be the first Pokémon ever unveiled in the game.
During special events this past weekend, an unidentified Pokémon appeared that would actually be revealed as a Ditto if captured. The Pokémon Company has released a video containing a conversation with Professors Oak and Willow confirming its name as Meltan.
The upcoming Let's Go series of Pokémon games have said there will be a new Pokémon in them, though Meltan's status of a "mythical" Pokémon in the style of Mew means its actual method for obtaining and using in Pokémon games has yet to be announced. It is confirmed as a Steel type.