Prepare to enter debt. Again.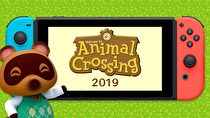 Some big news has emerged from the world of Animal Crossing.
A new Animal Crossing title was announced in the Nintendo Direct. No subtitle was given, only a 2019 release date and an introduction from Tom Nook for the new game.
Before that, Isabelle will be a playable character in Super Smash Bros Ultimate. The dreaded stop sign and gyroids were among her attacks.