That kid really gets around.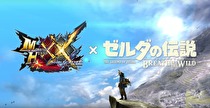 For the second time this week, Zelda: Breath of the Wild is invading a game - only this time, it's a future release.
Capcom and Nintendo have announced that the Switch hit will be represented in Monster Hunter Generations Ultimate. No release date was given for the pack, which includes the Champion's Tunic and Hylian Shield. Palicoes will also be able to dress up like the familiar Koroks.
This will be the third time The Legend of Zelda has crossed over with Monster Hunter outside Japan, as an Ocarina of Time-themed outfit appeared in Monster Hunter 4 Ultimate and a Wind Waker-styled Link was represented in the original Monster Hunter Generations.