Due to pre-emptions, Numberwang aired early in the morning this month.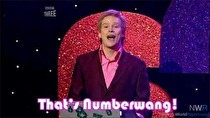 May's US sales results see a strong software month and explainable hardware growth for the Switch.
In the hardware front, the top earning single version of hardware was the Neon JoyCon Switch for the third consecutive month, both in units and revenue. The Switch trailed the PlayStation 4 in total system sales across all units. The Switch did outsell May 2017, but it was coming out of a hardware constraint at that point.
In the software front, Nintendo themselves put five titles in the revenue-based top 20: Donkey Kong Country: Tropical Freeze in 5th, debutant Hyrule Warriors: Definitive Edition in 7th, Mario Kart 8 (Deluxe) in 9th, Super Mario Odyssey 13th and The Legend of Zelda: Breath of the Wild 14th. Multiplats with Switch releases include NBA 2K18 (10th), FIFA 18 (15th) and the Street Fighter 30th Anniversary Collection (17th, a US$40 game). The other major physical release for May, SMT: Strange Journey Redux, was the 3rd best selling 3DS game of May behind the Pokémon Ultra games.
Nintendo system software top 10s:
Switch
Donkey Kong Country: Tropical Freeze
Hyrule Warriors: Definitive Edition
Mario Kart 8 Deluxe
Super Mario Odyssey
The Legend of Zelda: Breath of the Wild
Splatoon 2
Kirby: Star Allies
Labo Toy-Con 01 Variety Kit
Mario + Rabbids: Kingdom Battle (Ubisoft)
Elder Scrolls V: Skyrim (Bethesda)
3DS
Pokémon Ultra Sun
Pokémon Ultra Moon
Shin Megami Tensei: Strange Journey Redux (Sega/Atlus)
Mario Kart 7
Super Smash Bros.
Detective Pikachu
Super Mario 3D Land
Super Mario Maker
Minecraft (Microsoft)
Mario Party: The Top 100