Complete with leaderboards.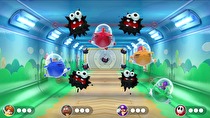 Super Mario Party has added a new mode that will bring the series online for the first time.
The new Mariothon mode will allow up to four players to compete in sets of five minigames, either locally or online with friends or random players. There will be leaderboards and other rewards for participating in the online modes as well.
The selection of games will cycle through the 100 minigames included.