There was one copy left in North America before now.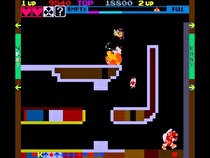 The arcade version of Donkey Kong isn't the only lost arcade title coming back.
Following the Donkey Kong announcement at Treehouse Live, 35 year Nintendo employee Don James introduced Sky Skipper, which is slated for release on Switch next month.
A 1981 shooter game, its cabinets were largely modified and only one cabinet was left at the Nintendo of America offices which will be used for the release. The side art for the game was drawn by Shigeru Miyamoto.