Put your Switches together for a Joy-Con party!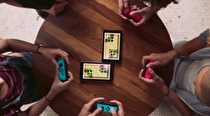 Nintendo revealed that Super Mario Party will be the next entry in the party game franchise. The Direct Tuesday showed a new tank minigame with split screen and gameplay among multiple Switch consoles. The trailer showed Switch consoles playing side by side on a table.
Pom-Pom, Diddy Kong, Dry Bones, Goomba, Shy Guy, Bowser, Bowser Jr., and Boo are notable playable characters in Super Mario Party. Also, there appears to be some "recruiting" of other characters like in Mario Party Star Rush on the Nintendo 3DS, as seen when Mario has a "Yoshi Dice Block". Yoshi and Rosalina appear to be following Mario, but they aren't among the 4 player characters in the HUD.
Super Mario Party will release on October 5, 2018.