No release date as of yet.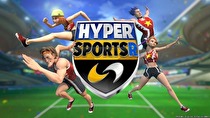 Konami is coming back to the Switch with another throwback to the company's distant past.
Hyper Sports R, a new version of their 1984 sports title Hyper Olympic (later released on the NES as part of Track and Field) has been announced for Switch. The button mashing of the original arcade game appears to be replaced with Joy-Con shaking.
Multiple track and field events and beach volleyball are in the trailer below. Four players can compete or team up. No release date has been given for the game.