We've had the programmer for the new game on a telethon.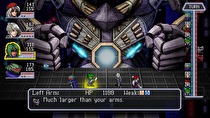 Limited Run Games's E3 presentation has just wrapped with some big Switch announcements.
Two brand new games for Switch were announced during the presentation. Dust: An Elysian Tale, the first game from Never Stop Sneakin' developers Humble Hearts, will come to Switch with a LRG physical release. The digital version is slated to launch within "a month or two".
Cosmic Star Heroine, the Lunar/Chrono Trigger tribute from retro RPG specialists Zeboyd Games, was also tabbed for a Switch release. The game will launch on the eShop in August, with a physical release to be announced.
Oceanhorn: Monster of Uncharted Seas will be given a physical release with Limited Run as the distributor. The game is up for open preorder now, with the first 5000 copies sold shipping in two weeks and the others in September.
Other Switch physical releases announced were: Night Trap 25th Anniversary July 6, Thumper July 20, Yooka-Laylee August, Golf Story September with a collector's edition from Fangamer, and Layers of Fear: Legacy in October.