You can try Smash, and its partners Serve and Volley.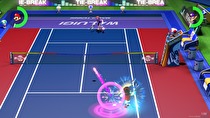 Details have been announced for the pre-launch Mario Tennis Aces tournament.
The tournament will play out over the first weekend in June. Play begins at 9 p.m. Eastern time (6 Pacific) on June 1 and will run until 2:59 a.m. on June 4 (11:59 on June 3 PDT).
All participants will unlock a Classic Mario outfit for the final game assuming the save data for the demo is kept. The demo app is expected to launch next week.