Presented in glorious New Funky Mode.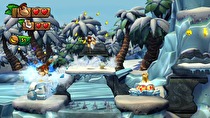 There's one giant... ok, I guess we can't say Rambi in the room because he's not in it, but I guess Funky Kong is. The first big release in what threatened to be a month of remakes is Donkey Kong Country: Tropical Freeze. We've got a couple of reviews from Neal and Daan if you're wondering about how Retro's best game ever transitioned to the Switch.
In smaller fare, there's a second platformer coming over from Wii U in Nihilumbra, while the original fare includes something called Cast of the Seven Godsends and at least in the US, a mahjongg game. Your Archives releases this week include horse racing (well timed for the Derby on Saturday) in Stakes Winner, and a game fans of black box NES titles will recognize in 10 Yard Fight.
It's mostly the same in Europe, but Japan gets a couple of continuations in the third J. B. Harold title (sadly, no Japanese support) and the third game focused on interaction with, um, adult stars for 500 yen.
North America
Switch Retail
Donkey Kong Country: Tropical Freeze (US$59.99/C$79.99: Friday)
Professional Construction: The Simulation ($39.99/$51.59)
Switch eShop
Cast of the Seven Godsends ($12.99/$15.49)
Animal Super Squad ($9.99/$12.99: Tuesday)
Perfect Angle ($9.99)
Don't Die, Mr. Robot! DX ($8.99/$11.33)
Nihilumbra ($7.99/$9.99)
LFO: Lost Future Omega ($7.99/$9.99)
Japanese Mahjongg ($5.00: not sold in Canada)
Timberman Vs ($1.99/$2.49)
Wii U eShop
Rainbow Snake ($0.99/$1.25)
New 3DS eShop
3D Retro Dungeon Puzzle Challenge ($0.70/$0.88)
Switch Archives
10 Yard Fight ($7.99/$9.87: Wednesday)
Stakes Winner ($7.99/$9.87: Wednesday)
Johnny Turbo's Arcade: Sly Spy ($6.99/$9.99)
Demos and Trials
Aegis Defenders
Midnight Deluxe (Friday)
Sales and Price Drops
Highlights: LEGO Worlds (Switch) is 50% off until Sunday. Spreadsheet
Europe
Switch Retail
Donkey Kong Country: Tropical Freeze (€59.99/£49.99: Friday)
Switch eShop
Cast of the Seven Godsends (€12.99/£9.99)
Perfect Angle (€9.99/£8.99)
Animal Super Squad (€9.99/£8.99: Tuesday)
Don't Die, Mr. Robot! DX (€7.99/£7.19)
Nihilumbra (€6.99/£5.99)
LFO: Lost Future Omega (€6.49/£5.89)
Timberman Vs (€1.99/£1.79)
Switch Archives
10 Yard Fight (€6.99/£6.29: Wednesday)
Stakes Winner (€6.29/£6.29: Wednesday)
Demos and Trials
Tumblestone
Midnight Deluxe (Friday)
Japan
Donkey Kong Country: Tropical Freeze (¥6458)
Yono and the Celestial Elephants (¥1000)
JB Harold Murder Club: Kiss of Murder (¥864)
10 Yard Fight (¥823)
Stakes Winner (¥823)
Rock 'n Racing (¥800)
Jyun Den Ai (Watashi no Hitomi o Mi Te!) - Moe Yamauchi (¥500)
Kadobat Wars (¥390)