WARNING: CHALLENGERS APPROACHING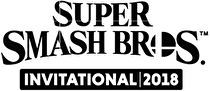 Nintendo has announced their first plans for E3, and we will have an extended look at the next Smash Bros game.
A pre-launch tournament for Super Smash Bros Switch and the first Splatoon 2 World Championships will be held in Los Angeles on June 11 and 12. The Smash Bros tournament will be an invitational, similar to a tournament held before the release of the Wii U and 3DS versions in 2014.
As with ARMS, online qualification will be held for spots in the Splatoon 2 worlds from North America. The open qualification will be held on April 21, with the finals to be held a week later on the 28th.