And runs through them in about ten minutes.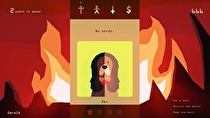 Nintendo's latest Nindies Showcase video was a brisk one, featuring announcements of 16 new games hitting Switch throughout 2018.
Kicking off the show was Mark of the Ninja Remastered, an upgraded version of the 2012 Xbox 360 / PC title. Featuring cutscenes in a Saturday morning cartoon style and intense 2D platforming action. It launches on Switch in the fall.
Fantasy Strike is a 2D fighting game in which anything can become a fighting style. Developed by Sirlin Games, who helped provide balance for the HD remaster of Super Street Fighter II Turbo, the summer launch will have online play.
Just Shapes and Beats is a "rhythm hell" game, combining elements of the hardest shooters and rhythm action. Supports local and online co-op, and launches on Switch as a timed console exclusive in summer.
Garage is a 2D overhead shooter published by tinyBuild, which the studio later revealed would come out on May 10. Zombies will be slain in the tribute to 1980s B-movies.
Pool Panic is the latest announcement from Battle Chef Brigade publishers Adult Swim Games. The oddball adventure involves playing as the cue ball in a world-spanning game of eight ball. Local co-op will also be available when it releases on Switch this fall.
Bomb Chicken is a 2D platformer from Nitrome in which a chicken lays bombs to discover secret entrances and escape foes. Set for a summer release on Switch.
Lumines Remastered is a HD version of the classic music-based rhythm game that debuted on the PlayStation Portable in 2005. The May release for Switch will feature a special Trance Vibration mode that involves using four Joy-Cons to feel the beat.
Devolver Digital showed two new titles in Reigns: Kings and Queens and The Messenger. Reigns is a kingdom simulation that combines government with dating applications, while The Messenger is a 2D platformer that swaps between 8-bit and 16-bit graphics to represent time travel. Reigns will take over in spring, while The Messenger follows in summer.
A new trailer was shown for the previously announced Light Fall, while a new speedrun mode was announced. Light Fall is a platformer where the main character uses a magical box called a Shadow Core to propel through the air.
PC adventure/RPG hybrid West of Loathing will make its console debut on Switch this spring. Presented largely in black and white, the turn-based RPG battles are optional but the Oxford comma is not.
Norwegian-inspired puzzle adventure Pode has been tabbed for a spring release.
Raw Fury's latest Switch game is Bad North, a real-time strategy title that has permanent death for the generals. The viking-based strategy title is a summer release.
To close the show, Versus Evil announced that the two Banner Saga adventure/RPG titles would come to Switch in spring ahead of the release of Banner Saga 3 this summer. Choices and stories from the first two titles will carry over to Banner Saga 3.