Capcom's art inspired adventure game returns to Nintendo platforms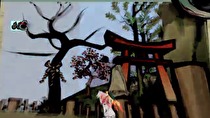 Okami HD is coming to the Nintendo Switch .
This remaster of a Sony Plastation 2 game originally released on other platforms last year. The Nintendo Switch release will feature motion controls with the Joy-Con controllers in docked or table-top mode, and touch controls when played in the Switch's handheld mode.
Okami HD has been announced for release on the Switch eShop this summer.