Some surprising additions, if only because they weren't in the program already.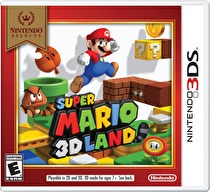 The Nintendo Selects family will be adding some new-to-North America members in a couple of weeks.
February 5 will see Super Mario 3D Land, The Legend of Zelda: Link Between Worlds, and Ultimate NES Remix join the discounted line. New packaging will be released for the physical versions that will cost US$19.99/C$29.99, while the same prices will be applied to the digital versions.
Super Mario 3D Land and Link Between Worlds have already been a part of the Selects program in Europe.