And March in Japan... wait, WHAT?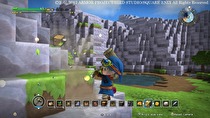 Dragon Quest Builders will make its debut in the West in February.
Nintendo of America and Nintendo of Europe both announced today that the story-focused building game will release in both territories on February 9. Nintendo will be handling publishing and distribution for the game outside Japan.
In a break from normal precedent, Square Enix will release Builders in Japan on March 1 as announced at this weekend's Jump Festa.