Our wallets are getting served.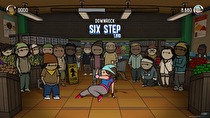 The Switch eShop is about to get an emergency transfusion of funk.
Floor Kids will be available with the eShop update tomorrow in North America for $19.90 (both for the United States and Canada). The two player breakdancing game was revealed in the August Nindie Showcase with a promise of a late 2017 release.
Players will have their choice of eight playable characters and will move through over 20 tracks written by noted scratch DJ Kid Koala.