Like Mario and Pat Boone before him, Spring Man went metal.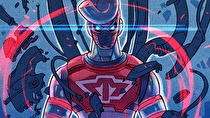 ARMS's newest update has put a new twist on an existing character.
Version 4.1 has added the metallic Springtron to the character lineup. The robotic version of Spring Man will utilize the same initial arms as its carbon based counterpart, while also gaining access to the other ARMS Spring Man gets.
The update has also resolved issues with guarding as time expires and other issues. Full patch notes are available here. Included in the update is the second "Party Crash" event, pitting Ninjara against Min Min for the weekend of December 9.