Including a fancy "Multiverse Edition."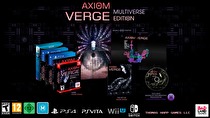 Axiom Verge for Switch is getting two physical editions in North America on November 21.
The Multiverse Edition goes for US$39.99/C$54.99 and includes a 5-hour documentary Blu-ray, an art book, a poster and a soundtrack CD.
The standard edition goes for US$29.99. Information for the Wii U edition is coming later.