Same price, but some extras await.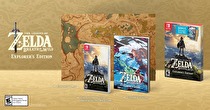 The Breath of the Wild will have some extra goodies this holiday season.
Nintendo of America has announced a new version of The Legend of Zelda: Breath of the Wild for this holiday. The "Explorer's Edition" will release at the same MSRP of $59.99, but will include a 100 page hint guide and a two-sided map. The DLC packs will not be included, and the new pack releases on November 24 ("Black Friday") for Switch only.
Also releasing on the 24th is a new version of the original 2DS. The green slate will launch for the same $79.99 price, and will include The Legend of Zelda: Ocarina of Time 3D.