Yes, there are things coming out this week that aren't Super Mario Odyssey.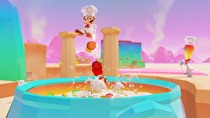 There's a 20 ton elephant (or maybe a gorilla?) in the room this week with the second to last game from last year's Switch debut video. Yes, Mario Odyssey is finally coming, and you can actually preload it now to beat the crowds. Daan's review is up right now, so go check it out.
The poor suckers releasing alongside Odyssey include Just Dance 2018, which itself has some Mario content in it. And although it's beyond the scope of the item technically, it's also coming out on the WII. There's also Nights of Azure as Tuesday was surprisingly busy, the unique platformer Poi: Explorer's Edition, and The Mummy Remastered for fans of the spoopy. In retro news, we have Mutation Nation from Hamster... and the aforementioned Wii game. Review corner: Mummy (Neal), Nights of Azure 2 (Zach), Fire Emblem Warriors (yours truly, from last week)
Europe has a similar lineup, but also has a big Halloween sale that picks up the likes of Disgaea 5. Japan's biggest deal, aside from technically being the first place in the world to get Odyssey, is a three play Sonic Forces demo that gotta go fast (it kicks you to a title screen after one minute).
North America
Switch Retail
Super Mario Odyssey (US$59.99/C$79.99: midnight ET, preload available)
Nights of Azure 2: Bride of the New Moon ($59.99/$76.11: Tuesday)
Just Dance 2018 ($59.99/$69.99: Tuesday)
Poi: Explorer's Edition ($29.99/$39.99: Tuesday)
This is the Police ($29.99: Tuesday)
Wii U Retail
Just Dance 2018 ($59.99/$69.99: Tuesday)
Switch eShop
The Mummy Demastered ($19.99/$24.51)
Splasher ($14.99/$17.99)
Moon Hunters ($14.99)
Time Recoil ($13.99/$17.99)
Violett ($9.99/$10.99)
Zombie Gold Rush ($4.99/$5.64)
Knight Terrors ($2.99/$3.99)
3DS eShop
Worcle Worlds ($9.99/$11.99)
Halloween Night Archery ($1.99/$2.49)
Switch Archives
Mutation Nation ($7.99/$9.87)
Demos and Trials
Piczle Lines DX
Sales and Price Drops
Highlights: Multiple Switch titles are on sale until November 2, Shovel Knight games on Switch/Wii U/3DS are 20% off until October 31.
Europe
Switch Retail
Super Mario Odyssey (€59.99/£49.99: Friday, preload available)
Just Dance 2018 (€59.99/£49.99: Friday UK, Tuesday for rest of Europe)
Nights of Azure 2: Bride of the New Moon (€59.99/£49.99: Friday)
This is the Police (€29.99/£24.99: Tuesday)
Wii U Retail
Just Dance 2018 (€49.99/£39.99: Tuesday)
Switch eShop
The Mummy Demastered (€19.99/£17.99)
Splasher (€14.99/£12.99)
Moon Hunters (€14.99/£9.99)
Time Recoil (€13.99/£11.99)
Violett (€9.99/£8.99)
Zombie Gold Rush (€4.99/£4.49)
Knight Terrors (€2.99/£2.69)
3DS eShop
Worcle Worlds (€8.99/£7.99)
Halloween Night Archery (€1.99/£1.79)
Switch Archives
Mutation Nation (€6.99/£6.29)
Demos and Trials
Piczle Lines DX
Sales and Price Drops
Nintendo's Halloween sale is active until 2 November (including Axiom Verge, Shovel Knight, Severed and Thimbleweed Park among others)
Japan - Switch
Super Mario Odyssey (¥6458)
Moon Hunters (¥1480)
JB Harold Murder Club: Manhattan Requiem (¥990)
Mutation Nation (¥823)
Zombie Gold Rush (¥500)
Sonic Forces (demo)