Featuring Dante from the Devil May Cry series?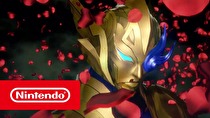 The Shin Megami Tensei HD project announced in January will be a numbered sequel.
A livestream from Atlus today in Japan confirmed that Shin Megami Tensei V will come to Switch. No release date has been given for the adventure.
The fifth main Shin Megami Tesnei title will be the first new console title since Shin Megami Tensei: Nocturne which released in 2003 in Japan (with SMT IV being a 3DS title).