Lucina is getting married. But not really.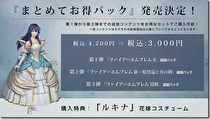 Koei Tecmo is giving Fire Emblem Warriors DLC packs, and a season pass.
The pass was revealed today at the Tokyo Game Show, and the game's Japanese website gave the details on pricing and intended release dates for the region. There are three packs coming, each costing ¥1400 (roughly US$12.50 or €10.50) with the season pass being ¥3000.
DLC Pack 1 – Focuses on Fire Emblem Fates (coming out at the end of this year)
DLC Pack 2 – Focuses on Fire Emblem: Shadow Dragon (coming out early 2018)
DLC Pack 3 – Focuses on Fire Emblem Awakening (coming out in the Spring of 2018)
Getting the Season Pass comes with a new version of Lucina from Fire Emblem Awakening as she will take on the Bride class complete with a wedding dress. During the final TGS livestream for the game, Azura from Fire Emblem Fates was hinted at being included in the first DLC pack.