8-Bit Mario is a DNP (Old)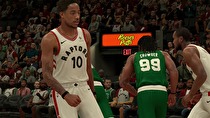 Despite original statements to the contrary, NBA 2K18 does not have Amiibo support.
The digital version of the basketball simulation launched today on the eShop without Amiibo support as was previously rumored. A statement at a pre-release event also claimed the support would be available.
An issue with the game's Legend Gold (most expensive) edition in some countries has been resolved. Most notably found in Canada, the game's converted price tag of C$199.99 plus 5 - 15% sales tax (depending on the province) was preventing the game from being bought directly on the system due to the $200 eShop limit. The error has been resolved, and the web storefront was not affected.