November 10 is going to be a busy day.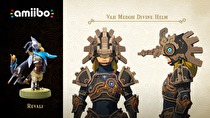 The champions of Hyrule will be storming the gates of the Amiibo aisles in November.
A brief announcement today confirmed the Amiibo for Daruk, Mipha, Revali, and Urbosa would release separately on November 10. The Amiibo will each give special headgear for Link that is based off their region's Divine Beast, among other functionality.
No release date was given for the second Breath of the Wild DLC pack that prominently features the Champions.