Pop pop pop because the party never stops.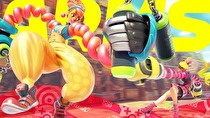 The next update for ARMS will add a new fighter, while those still on the fence will have a free weekend to try it out.
Lola Pop is the newest pugilist to enter the ARMS arena. A colorfully-dressed clown, Lola can inflate her body to add a reach or defensive advantage. Aside from the three new ARMS, Lola will also come with a new stage.
The Global Testpunch demo will also return this weekend, in constant rotation from 11 a.m. Eastern time on Friday to 5 p.m. Eastern time on Sunday.